Let's introduce ourselves...
In the summer of 2019, we said to each other, what stands in the way of us making our dream come true? That dream, a beautiful house in an Austrian village, we found a year later in Auffach, the area Wildschönau. A beautiful building with originally 15 rooms.
Together we have a dream and this one comes true! A place in the mountains, nature, peace and a place of your own to be proud of and let others enjoy it. The latter, enjoyment, is what we do, but what we want our guests to experience optimally.
Enjoy a delicious breakfast in the Stube, play a game with your family, enjoy a weekly catered dinner, roast marshmallows with the children by the campfire, relax after a busy day in the sauna, it's all possible in Alpenchalet Almrose. The contact with the guests is important to us, personality is paramount!
The guest house will be converted into eight luxury apartments in the Tyrolean atmosphere. In December 2021 we will receive the first guests. Not all apartments are ready then, so rooms with breakfast are rented out in the 'old' style.
Ron Rietveld en Esther van Dreumel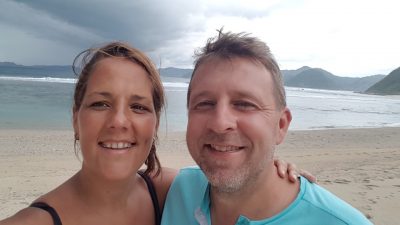 See the four seasons in Wildschönau